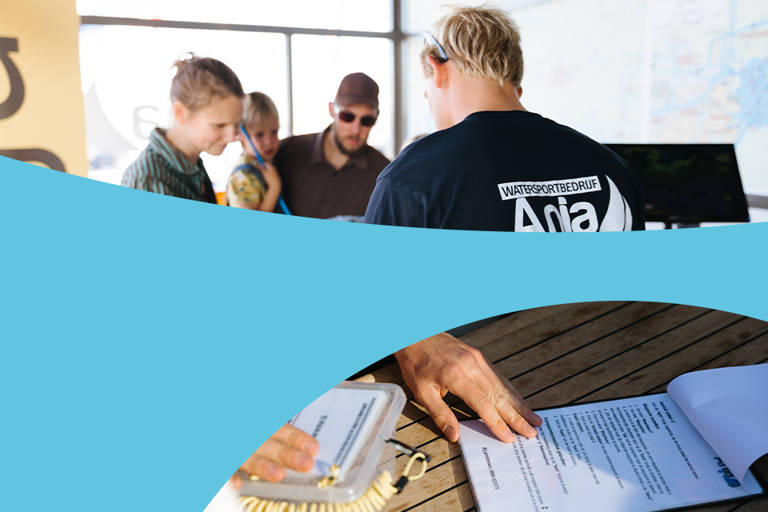 At the Alde Feanen National Park
Frequently asked questions
Yes you can! Unfortunately it is not always nice weather in the Netherlands, which is why we have a nice weather guarantee. Below you will find the terms and conditions of this guarantee.

Conditions
Whether it is possible to make use of the beautiful weather guarantee is determined by the landlord.
The landlord determines the day before, or on the day of departure, whether the warranty can be used.

Which weather conditions
Above wind force 5
Below 10 degrees
Much and continuous rain

We review the predictions with https://knmi.nl/nederland-nu/weer/verwachtingen

and https://www.windguru.cz/187483.

If you want to be sure of a sun-drenched day, book at the last minute.

Yes, you can. You can read all the terms and conditions here.

In consultation with us we can postpone or adjust the booking.

Here you will find all the rental conditions at a glance;

No, you don't need bail. If there is any damage, you pay excess.

All our ships are all-risk insured with an own risk of €500,-, this is per claim. In case of damage to others, we will fill out a damage form together with you, we also need the details of the other party. You pay then a maximum of €500,- excess per claim.

If you have made damage to a boat of ANJA Boat Rental, first the damage will have to be determined. If the damage is under €500,- you don't have to fill in a damage form. The damage can be paid by invoice. If the damage is over €500,- we will fill in a damage form together with you and this will be sent to the insurance company. The excess of €500,- can be paid by invoice.

It is also possible to buy off the excess, in which case you are fully insured for any damage resulting from sailing with the boat. The cost of buying off the excess is €50,- or 10% of the excess of the chosen boat. Intentionally causing damage to the rented boat or losing mooring ropes, inventory, fenders, etc. is not covered by the buy off of the excess.

All boats are located directly on the Pikmeer, next to the well-known "The Tea House", the address is Meersweg 9a 9001BG Grou.

Here you have the possibility to unload the car at our loading and unloading place, after that you can park your car nearby.

Because our boat rental is in the middle of the village, we do not have our own parking spaces, so we have a loading and unloading area to bring your belongings to the boat. A little further on, within walking distance, are parking spaces, click here for the map with parking spaces.

Yes, that's possible, when you spend the night in the harbor with us you don't pay anything extra for that. We have a modern harbour in the middle of the village, here you can also use toilets, showers, washing machines, water and shore power.

Yes, dogs are allowed in the open sailboats and sloops, but we charge €15,- cleaning costs. Dogs are not allowed in the cabin yachts.

When renting a sloop for a day or part of the day, you pay a fuel surcharge. You can return the boat after sailing without refuelling. If you rent a boat for longer than a day, you have to refuel the boat before returning it.

When hiring a Valk or Falcon with outboard motor for one to three days, the fuel is included. After three days you need to refuel the boat before returning it.

When renting a sailing yacht, you always have to refuel yourself. Refuelling can be done at our own petrol station.

No, lifejackets are not mandatory. As a skipper, you are legally responsible for the safety of your crew. When children are on board, we do recommend the use of a lifejacket.

You can bring your own lifejacket but it is also possible to rent one from us, we have life jackets in all sizes from 0kg to 40> kg.

The mast of a Falcon is easy to iron, the mast of sailing yachts is not ironable.

A Falcon contains: a boat tree, paddle, bailiff's can, mooring pin, horn, mop, three mooring lines and two fenders.

In a sloop you will find: tray with a wiper and tin, a horn, paddle, anchor, four mooring lines and four fenders.

Look for the inventory list of the sailing yachts on the page of the boat in question, there you can find everything. Or go to our sailing yachts overview page, click here

An anchor or additional inventory can be obtained on departure.

It is difficult to say exactly, with a good weather forecast the rental of boats is always very fast. At Easter, Whitsun, Ascension the boats are always booked up very early. Look for the exact availability on our website.

Yes you can, you can get a free option on a boat. Together we decide for how long, this also depends on the hustle and bustle.

You have to pay 50% of the amount when booking the boat. The rest of the amount must be paid up to 10 days before departure. If you book within 10 days of sailing, you must pay the full amount.

The payment can be made via Ideal, Sofort Banking, Paypal or bank transfer.

Yeah, I'll give you a card. We'll choose a suitable route together. Do you prefer peace and quiet and nature? Or do you prefer villages? We are very well known on the water and will map out a nice route for you.

No, all our boats are license-free. You hardly need any experience for the sloops, we have easy to navigate boats and on departure we explain how the sloop works.

For the Falcons and sailing yachts some sailing experience is required. It is up to you whether you have enough experience, because it is difficult for us to assess this. At departure we explain what all the lines and blocks are for.

| | | | |
| --- | --- | --- | --- |
| BOOT: | FALCON / VALK | SLOEP | SAILING YACHT |
| Hello | 9:30 – 17:30 | 9:30 – 17:30 | NVt |
| Daypart | 9:30 – 13:00 / 13:30 – 17:30 | 9:30 – 13:00 / 13:30 – 17:30 | NVt |
| Evening | 18:00 – 21:30 | 18:00 – 21:30 | NVt |
| Afternoon + Evening | 13:30 – 21:30 | 13:30 – 21:30 | NVt |
| Day + Evening | 9:30 – 21:30 | 9:30 – 21:30 | NVt |
| Weekend | 4:00 p.m. - This way. 17:30 / Say 9:30 - So 17:30 | NVt | 4:00 p.m. - This way. 17:30 |
| Midweek | Mom. 9:30 - Fri 17:30 | NVt | Mom. 1:00 p.m. - Fri 1:00 p.m. |
| Week | Mom. 9:30. - This way. 17:30 | NVt | Mom. 13:00 - So 17:30 / Fri. 16:00 - Fri. 10:00 |

We have different vouchers. You can buy a voucher for a day sailing or for a certain amount to spend at Watersports company ANJA. Vouchers can be ordered via the website.

Water sports company ANJA also provides sailing lessons. Sailing lessons are from 10:00 to 17:00 from €80,- per person, minimum two persons and maximum four.

Request the lessons in time, so we can see if an instructor is available.

Yes, you can! For the Falcons and sloops we have skippers available. Request a skipper in time, so we can see if a skipper is available.

Events we certainly do!

With us almost anything is possible, whether you want a GPS boat trip with lunch and dinner or sailing races with all your colleagues. We can arrange something for every budget. From our location directly at the Pikmeer next to the well known restaurant Het Teaehuis you can go directly from the terrace on the water.

Also for events on location you have come to the right place, feel free to ask for the possibilities.